Harbour Jet is Sydney's original jet boat Adventure Company and has been in operation since April 2000.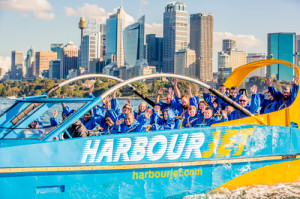 Following the proven success of Jet Boats in New Zealand and the obvious growing need for an alternative to the 'tea & scone' cruises on Sydney's Harbour, a new operation was born to cater for the more adventurous consumer. Design and construction of a new purpose built vessel began in November 1999 to provide a new type of water-based tourist attraction on Sydney's world famous Harbour.
Harbour Jet currently operates three vessels. 2 x 23 seater boats and 1 x 21 seater which was in demand after the fast-growing numbers of passengers over the years.
The company offers two different rides from 35 minutes to 50 minutes throughout Sydney Harbour. All rides encompass 75km/h jet boating manoeuvres of 360-degree spins, power brake stops and fishtails. Harbour Jet's signature ride, the 50-minute Sydney Harbour Adventure, allows passengers to not only discover the magic of Sydney and its key Harbour icons, while receiving light-hearted commentary and photo opportunities, but also to experience the amazing capabilities of a Jet Boat. Fitted with awesome stereo systems, a continual mix of music keeps the Jet Boats rockin! A great day out is guaranteed all year round with Harbour Jet's provision of ponchos. The skippers have gone through various safety courses and are fully qualified to Master Class V.
Harbour Jet has established many strong business and marketing relationships with industry and government bodies including: Tourism New South Wales, Australian Tourist Commission, Inbound Tour Operators, International wholesalers and Domestic agents, Sydney Ports Authority, Sydney Harbour Foreshore Authority, Darling Harbour Authority, National Maritime, Waterways Authority of New South Wales (with whom a code of conduct has been initiated with to ensure the continual operation of Jet boats in a safe manner on Sydney Harbour) and Local Businesses within the areas of leisure and business tourism.
Harbour Jet has supported many highly reputable charities, as well as Sydney Schools, Sporting groups, and many other worthy causes.
Harbour Jet is a fun, exciting and expanding business with excellent growth potential. With increasing merchandise sales, personalised photos and untapped marketing opportunities within the local and international markets, Harbour Jet is sure to continue to grow as one of Sydney's leading and 'must do' tourist attractions.