YOUR SAFETY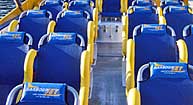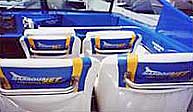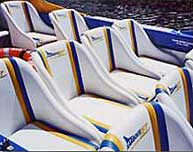 Harbour Jet's vessels have been built to Australian Standards and passed all NSW Waterway stringent survey inspections and requirements for commercial operation. All drivers are qualified master class 5 Skippers, have a knowledgeable understanding of Sydney Harbour and the environs and go through a regimented training process to become experienced Jet boat drivers. These vessels have also been specifically built with your safety in mind. Bucket seats (the first of their kind in a jet boat) and handrails guarantee you remain firmly in your allocated seat during the Jet boat manoeuvres. A comprehensive safety briefing and confirmation that all passengers understand the conditions of riding is also given prior to boarding.

Lifejackets are not required to be worn however are available for every passenger and are located under each seat. The provision of spray jackets, dry pants and goggles guarantee your comfort. All passengers are covered by a comprehensive $10,000,000 Public Liability Policy.

Day lockers are also available for the storage of personal belongings whilst on your ride or visiting other Darling Harbour attractions.